Female friendships should be celebrated. At least that's what Leslie Knope from the TV show Parks and Recreation strongly believes. On February 13, the day before the romantic Valentine's Day, the fictional character planned a party to celebrate her best gal pals. But real-life girl friends liked the idea so much that now women around the country celebrate Galentine's Day—a clever combination of gal and valentine. And in true Galentine's fashion, Leslie Knope showers her friends with presents. So if you're looking for Galentine's Day gifts for your besties, we have you covered!
Galentine's Day is a day to celebrate your gal pals, and how important your BFFs are to your life—whether they're single or not and whether you're single or not. Instead of a one-on-one Valentine's Day date, Galentine's Day celebrations usually include multiple girl friends, like a party with all your BFFs. If you're hosting a Galentine's Day party or simply want to shower your gal pals, here are 7 ways to say I love you with a gift.
As with any party, make sure guests know the gift-giving policy. If you're the host, you can use these ideas for party favors—your guests may not expect them, but they also won't feel awkward receiving something from the host. But if you're not the host, don't hand out gifts unless everyone has gifts; the others may feel bad for not getting anything. Instead, give yours out at the end or during mingling so that others don't feel obligated to also get a gift. You may also choose to just give a gift to your BFF—and these ideas are perfect for that as well! And of course, if you know something your best friend will absolutely love, always go with that gift! You know your BFF the best.
Perfect for your "but first, coffee" friend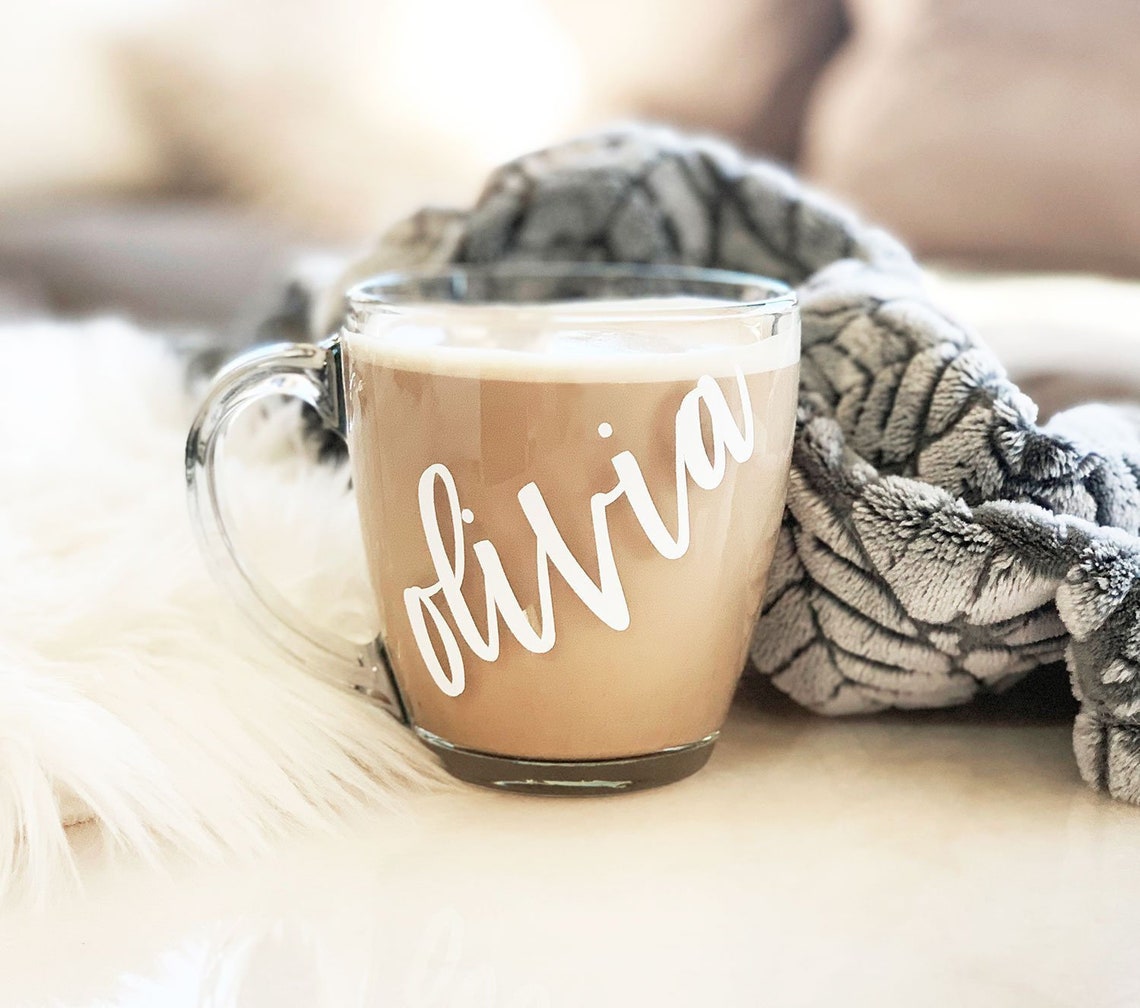 These customizable, clear mugs are the perfect blend of modern and unique. You can purchase a mug for each friend with their name on it and fill them with tea bags, coco, or chocolate. They're the perfect gift for your friends who drink coffee, tea, or mulled wine.
2. Mini Wine Bottles
Perfect for your friend who doesn't drink beer
If you know what kind of wine all your friends like, you can pre-wrap the drinks for each friend. But if you're not sure—or just want to give them a choice—skip the wrapping. Instead, spread them out on the table and let your gal pals each pick their favorite two before they go.
3. Handwritten Inspirational Note
Perfect for your badass friend (hint: it's all of them!)
You don't have to spend money to tell your friends how much you love them! Instead, you can write them a letter—especially if you don't live near them. Gifts are certainly a nice gesture, but so is telling your friends how much they mean to you in your own words. Everyone needs encouragement now and again!
4. Super Soft Robe
Perfect for your friend who works from home
We all need encouragement and we all need rest, too. You can encourage your BFFs to take some time for themselves with a plush robe. Of course, you can monogram them just like the mugs. Or you can simply give everyone their own color to match their personalities.
5. Custom-Scented Candle
Perfect for the friend whose house always smells nice
Candles are a staple gift, and custom scents make the gift more special. If you're feeling adventurous, you can create a custom scent for each friend. But that may be time consuming. If you're worried about timing—or running out of scent ideas—simply create one scent and name it "Galentine's Day 2022" or something similar. That way, it's still a special scent for the gals and a way to remember the day.
6. Spa in a Box
Perfect for your friend who works too much
Maybe you want to really spoil your friend. Why not combine the wine, the candle, and the robe? Give your BFFs a spa trip in a box (or basket) for a whole evening in to relax. You can even make that part of the Galentine's Day celebration. Instead of going out, stay in for a spa day on you.
7. Something Parks and Recreation-Themed
Perfect for your best galentine
Of course, the best Galentine's Day gifts are Parks and Recreation-themed, because we have Leslie Knope to thank for this special day. From themed mugs to pocket mirrors and keychains, there are so many gifts for your gal pals. Because your friends need reminders that you love them when it's not Galentine's Day.
Conclusion
Galentine's Day gifts aren't necessary for a perfect celebration with friends. But they are a nice way to show your appreciation if giving is your love language. As with any gift, consider the recipient before you choose. You can get everyone the same gift or mix and match depending on your friend's interest. There are seven Galentine's Day gifts on this list, so your first seven gals are covered!
Comments
comments