Gmail – How to save messages from Eventective to a folder.
In your Gmail inbox, go to Settings

at the top right and choose Settings from the dropdown menu.
Select Filters and Blocked Addresses at the top, then click on Create a new filter mid-page.
To filter messages from Eventective, type Eventective into the From field and related email addresses should display. Choose all that apply – Eventective sends from several addresses – then click Create filter with this search
If you want to move all Eventective messages out of your Inbox, select Skip the Inbox (Archive it) checkbox, then check the Apply the label checkbox and create a New label… (call it Eventective, or whatever you like). Be sure to Also apply filter to matching conversations to pick up existing messages, and Create Filter.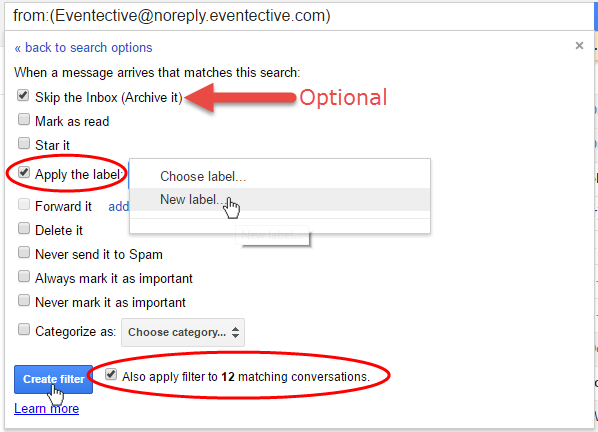 You should now see your folder along the left side of your inbox. Click into the Eventective label to see all your Eventective messages!
Comments
comments