Party planners, meeting coordinators and brides are using the internet to research event spaces and services. Often they are trying to determine what their event is going to cost.
Eventective Packages give event venues and vendors the opportunity to promote event and meeting packages with pricing information on their Eventective listings. Planners can browse and review packages and contact the event business that meets their budget.
Eventective listings with packages are more attractive to planners and will drive more targeted inquiries to your business.
Why Eventective Packages?
"Using the Book Now option has made it so easy to book an event. The customer can look at packages and choose the one that fits their needs. The site guides them through the booking process and lets you know you've been hired. Customers can call with questions or just go ahead and do it all on their own. Just fantastic!"
– Debra Celletti, Party Life DJ's and Entertainment
Planners, Planners, Planners: Eventective has over one million monthly visitors. Leverage our search engine ranking, traffic and technology to put your event business online.
Planners Want Pricing: A survey of visitors to our site found that 68% of respondents are looking for sample packages and pricing.
It's Free: There is no cost to list your event and meeting packages. See examples of packages below.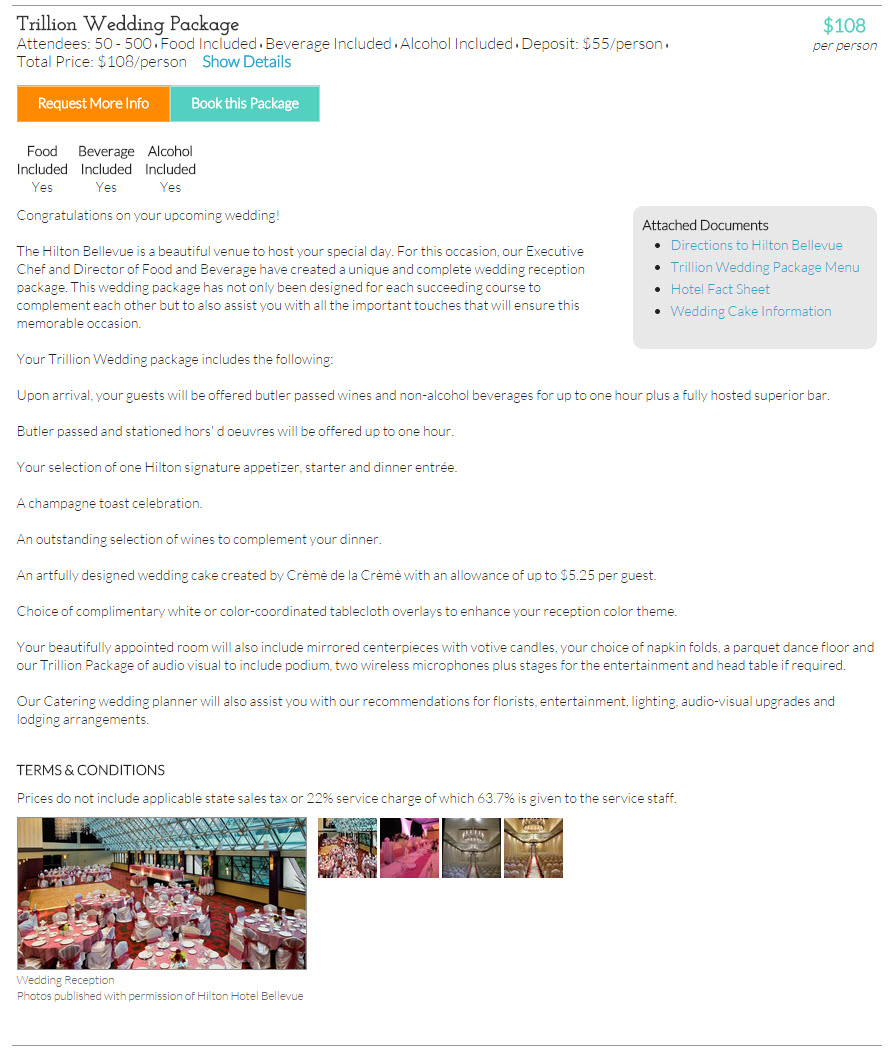 Customize Your Packages
Offering customized packages will help you market your event spaces and services to specific audiences. Be creative and sell packages for different event types, time periods and price points.
Create party packages for birthdays, bridal showers, baby showers, anniversaries and holidays.
Target businesses with meeting packages tailored to their needs.
Highlight wedding reception packages.
Sell unused event space or services on slow days and during the off-season with packages that include special promotional pricing.
Include different levels of packages priced according to the services offered. For example, a Bronze, Silver and Gold reception or photography package.
Offer a package with event space only. Many planners like the option to bring in their own catering.
As you create customized packages, follow these tips to be sure they capture planners' attention and sell your event spaces and services.
Outline exactly what is included in the package price in the description field. Don't be afraid to promote your experience and why a planner should hire you!
Upload multiple photos and videos to showcase your business. Let planners tour your event spaces, see your culinary creations, review your photography style or hear a performance without leaving their computers!
Attach floor plans, menus, song lists, brochures and other marketing materials that describe your services and help the planner make a decision.
Include your terms and conditions, such as cancellation policies and accepted methods of payment.
Ask customers and event businesses you have worked with to write recommendations on your listing. Recommendations make your listing stand out and are helpful to planners as they evaluate your business.
Get Started Now!
Sign in and start creating packages.
Contact us if you have questions or would like help creating your packages.
Email: CS@eventective.com
Phone: 207.253.1653
Comments
comments