So you have a website, right? Or even better — you have a website and an Eventective profile! In the digital age, online presence is crucial. When a bride or event planner is looking for the perfect venue, they can virtually visit any venue that catches their eye. But what's it take for them to send you an email and start the conversation? The answer is simple: transparent event pricing.
What Do Customers Want?
Eventective conducted a survey, asking our customers what information they want from venues and vendors before booking. Or, ideally even before reaching out with an initial inquiry.
Based on the survey, the #1 detail that customers want provided upfront is pricing. Brides and planners want to know what the price includes right away—they don't want to dig for it. Display pricing on your website or profile and potential customers can immediately determine if your service or space aligns with their budget. Ultimately, they'll be more interested in the services you offer and the value you can bring to their event.
Because our users asked for it, Eventective profiles with pricing are given priority visibility — they are displayed above profiles without pricing in search results. Additionally, Eventective allows users to filter their search to show only those venues who choose to display pricing.
Want to learn why pricing is so important and how to add it to your Eventective profile? Watch this quick, one-minute tutorial!
What Are Event Packages?
Put simply, an event package is any amount of goods or services bundled together. A single package price encourages prospects to book with you. They spend a little more on the bundled items, but they get more out of it while you make more profit.
The good news is that a package can be as simple or as all-encompassing as you make it. A simple package on your Eventective profile could display a price range for events — since sometimes the price depends on the time of year or type of event — or bundle the cost of the venue for 4 hours plus setup. A more robust option could include a price per person or per hour that includes catering, or a local DJ.
If you're a florist, consider including set-up along with flowers, or a discount per bouquet for larger parties. Maybe you list a special rate for brides buying flowers for bouquets and centerpieces. You know best what your customers buy from you, so take a look at those trends to jump-start your package brainstorming.
It's Easy to Add Pricing
Log in to your Eventective account, select Profile, and then click on the Pricing tab. Click the Add Pricing button to get started. Packages can be configured as per person, per hour or per event. You can even specify a price range if you don't want to get too specific.
To provide further value to potential customers (and generate better quality inquiries for YOU), consider displaying your pricing by event type – and target the most popular events. When you specify unique pricing requirements for weddings, parties and meetings – Eventective will display your pricing to planners searching for those event types, setting accurate expectations for event budgets.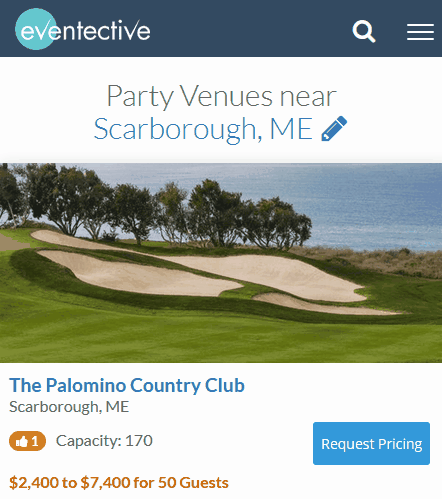 Check out this short video to find out how to add pricing. If you need help logging in or adding pricing, reach out to us at cs@eventective.com or call Customer Service 207-253-1653.
Summary
Overall, profiles with pricing receive twice the traffic and Referrals from Eventective users because you provide the information they want. Plus, pricing gives you the ability to market your services 24 hours a day, 7 days a week! Pricing gives the planner a reason to call you directly to discuss your offerings — don't miss out on an opportunity to book more events!
Comments
comments